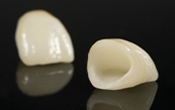 What are Porcelain Crowns?
Porcelain crowns, also known as dental caps, over damaged or discolored teeth. Crowns cover the entire tooth, starting at the gum line.
Though porcelain crowns can be used to improve to appearance of a tooth, they are not primarily cosmetic devices. Our dentists recommend crowns to protect or strengthen weakened teeth, or to restore a disfigured tooth to its original shape. "capping" a tooth requires buffing away part of a tooth to make room for the crown, so our dentists often discourage it as cosmetic method unless the teeth are damaged.
One-Visit Crowns, Inlays and Onlays with CEREC technology
CEREC stands for CERamic REConstruction. This system is computerized CAD.CAM technology that allows our dentists to create custom crowns, inlays and onlays right in our office using the most natural, durable porcelain material available within 40 minutes.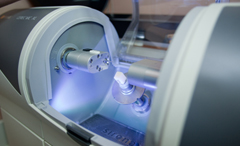 We are pleased to provide our patients the most convenient and aesthetically pleasing tooth restoration process available today. CEREC has over two decades of clinical research and documentation to support the technology. The restorations have been proven precise, safe and effective, with more than eight million performed worldwide.
There has never been a better time to replace your old silver and start again with strong, natural-looking teeth.
How Is A Dental Crown Applied?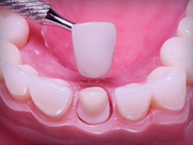 At your first visit we will use CT the scan the damaged tooth and then using the latest in dental technology we scan your tooth using the
CEREC procedure.
The next step is to prepare the remaining portion of tooth for the crown. We then customized the color and characterization of the crown to match the adjacent tooth perfectly. You will leave the office with the permanent crown in ONE sitting.
Teeth that are visible are often constructed from porcelain since it can match your natural tooth color. In the old days, dentists would recommend metal crowns for back teeth, as it is a stronger material. Not anymore! The porcelain used for CEREC is double the strength of transitional porcelain and does very well on back teeth.
If you are in need of dental crowns in Chengdu or the surrounding areas, we at Aurora Dental would love to be your dental family. Working together, we will give you the beautiful smile you deserve!