What are Porcelain Veneers?
Veneers are often referred to "Instant Orthodontics". Think you need braces? A substantial aesthetic effect can be obtained with a veneer and minimal tooth preparation is required.
When Should I Consider Veneer? Veneers are a great choice when you want a major change in the look of your teeth but don't want to wait for the months or years that orthodontic work can take. Veneers are also useful when your teeth won't respond to whitening methods, or when your teeth have extensive damage or decay. Veneers cover the front and sides of your teeth and are permanently bonded in place with color-matched cement. You'll get a natural, long-lasting look.
How do I know if veneers are right for me?
Your dentist can evaluate your smile and your overall dental health to help you decide if you're a good candidate for veneers. In general, veneers are a great way to permanently improve the appearance of teeth with:
Uneven spacing, such as crowding or spaces between teeth that are too large.
Uneven lengths
Congenital problems with tooth development
Stains or discoloration
Decay, abrasion, erosion, or thinning of teeth
Chipping or other damage to the teeth
If you're unsatisfied with or self-conscious about your smile, talk to our dentist. Together you can design a solution that's right for you.
Cerec Porcelain Veneers Treatment Procedure - One Visit Technology
A porcelain veneer made through a traditional dentist office usually requires you to go to the dentist office for two or more visits.
When you come back your second appointment, the temporary Porcelain Veneer is removed and the new Porcelain Veneer is fitted on the prepared tooth.
Our dental has Introduced CEREC process eliminates you having to come back for the second visit will the CEREC equipment to work on your porcelain veneer while you wait.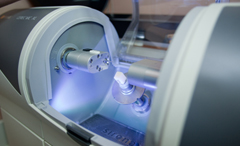 Given this new process, here are some advantages of this CEREC Porcelain Veneer technology for patients over traditional dentistry:
The patient only needs one visit instead of two more, saving time and money
The computer-aided design ensures an exact fit eliminating biting problems and return visits
The patient does not have the cost and bother of a temporary Porcelain Veneer
The patient reduces the number of times that they have to use sedation if needed
Despite all these advantages, many dentists have not embraced this technology for a number of reasons including the cost of obtaining the equipment, and the time needed for the training. The challenge is finding a dentist who has the CEREC equipment, and experience necessary for successful results. Dentists using CEREC must obtain additional training to obtain the results that are possible with the technology.
Our dentists have been using CEREC technology to make porcelain veneers for many years because of the convenience and results that can achieve for their patients in one dental visit.