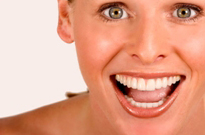 Teeth Whitening
Whitening your teeth is one of the fastest and easiest ways you car rejuvenate your smile. At
Aurora Dental.
we offer both in-office and take-home whitening methods-always without the harsh abrasives used in whitening toothpastes.
We'll use our extensive experience to match you with the procedure that's best suited to your individual needs. During your personal consultation, your dentist will ask about your personal preferences and answer any questions you may have about different whitening methods. Your dentist will strive to make sure every patient is completely comfortable, so don't be shy about asking questions or bringing up any concerns.
Why Teeth Get Stained?
Discoloration can be the result of a combination of things:
genetics
poor oral hygiene
medication
the effects of aging
smoking
certain foods

Whitening techniques will only work fr staining caused by some medications if the discoloration is very mild. Teeth that are discolored because of medication or excessive fluoride are not good candidates for the whitening procedure. Veneers are the best solution for more severe discoloration cases. Once you reach our office, our dentist will let you know the best solution for you.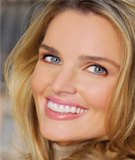 One Hour In Office Whitening Procedure
We are delighted to offer our patients the latest in whitening procedures. The Aurora In-Office Whitening procedure is a revolutionary tooth whitening procedure. It's safe effective, painless and very fast:
First we will begin by removing the plaque that has built up along the gum line.
Then, a protective covering will be placed over your gums to protect the soft issue from the bleaching agent.
Then, a Peroxide based gel will be applied to your teeth. The gel will begin to work upon contact with the tooth or will be activated using a laser light.
The gel is a scientifically formulated,pH balanced Hydrogen Peroxide that, gently penetrates the teeth to remove deep stains and discoloration. With proper care and an occasional touch-up at home, your whiter smile will sparkle for years.
Take Home Teeth Whitening
Under the supervision of our dentist, our whitening treatments are completely safe and will not harm teeth or gums. Using our custom made trays and eight tubes of solution, our whitening system lasts a long time. This means you will experience very little whitening loss over time if you maintain good dental habits.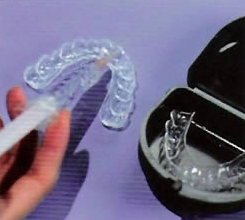 First an impression of your teeth will be taken. It will be used as a mold to make custom whitening trays that look like a mouth guard.
When the whitening trays are ready you will have another appointment to test if the trays fit properly to the teeth.
Instructions will be provides on how to use the trays in conjunction with the whitening gel.
The peroxide whitening gel is placed into custom trays at home and wom for a certain amount of time each day
The custom-made tray minimizes the bleaching gel's contact with the gum issue
The advantage of using dentist-supervised bleaching is that teeth can be properly assessed to have the correct chemical concentration, correct method and length of treatment and to be sure the patient even suitable to have their teeth whitened.
!
To schedule a teeth whitening appointment please call us cn 18681366699